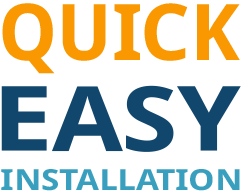 On placing your order an engineer will verify network coverage.

A member of staff will then assess your installation requirements.

One of our locally based engineers will install your broadband at a time convenient to you.

If you are lucky enough to live in one of our pre-wired appartment blocks you can avail of FREE installation.
How much does it cost?
The standard install costs €100 (excluding the wireless router). This is for the wireless receiving equipment and installation. If additional poles and brackets are required due to a non-standard install there may be a charge for these extra components - however this will be at the cost price only.
The following apartment buildings in Midleton qualify for a FREE install as they have been pre-wired for our service:
Charleston Maltings, Bailick Road
Charleston Wharf, Bailick Road
Coach Horse Lane, Riverside Way
Cois na hAbhann, Bailick Road
Coolbawn House, Coolbawn Street
Corabbey Court, Distillery Walk
The Courtyard, Mill Road
Enterprise House, Riverside Way
Granary Court, Connolly Street
Holly Court, Broomfield
Ivy Court, Broomfield
Mill House, Mill Road
Mogeesha House, Riverside Way
Watersedge, Riverside Way
What do I get?
The completed install provides a single Ethernet based connection. For this reason it is important to make sure that your PC, laptop etc. has a network adapter installed.
Can I connect multiple computers?
We can provide a wireless router for an additional €60. This will allow wire-free internet access for phones, tablets, laptops and gaming consoles.